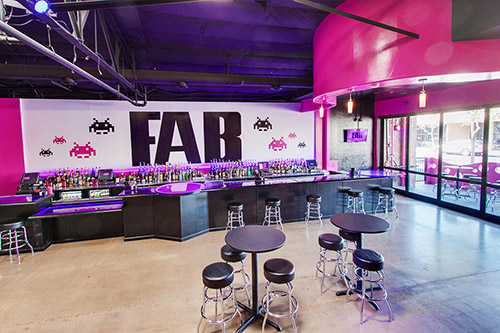 This article was originally found in the September/October 2016 issue of Design Cost Data Magazine, see spread.
Located in the heart of the vibrant Tower District in Fresno, California, the FAB Dayclub/Nightclub is located in a redbrick, single-story commercial building. It appears to date back to the late 1930s or early 1940s, and uses steel bowstring trusses and 2×14 rafters. The Tower District includes many historic buildings, including the fully restored 1939 Tower Theater, which lends its name to the district.
The firm of Alan T. Hendry, Architect was hired to assist the owners in designing the FAB space to be not only code-compliant, but also budget conscious. Because of the change of use, a Conditional Use Permit was required through the City of Fresno. The project also had to meet requirements of Fresno's "Tower District Specific Plan."
The dayclub/nightclub project required gutting the existing non-load-bearing walls and the non-compliant toilet rooms, and removing the original existing single-glazed storefront system. The interior of the building was reconfigured to provide a new bar area, a small platform for performers, a DJ booth, and VIP seating. The plans also called for a pocketing mall-front door system leading to a new patio that is open to the sidewalk and streetscape.
A new code-compliant path of travel was created from the rear exit of the building to the adjacent parking area. This also required a compliant-accessible ramp, due to height differences between the original finished floor and the adjacent grade.
Due to the structure's age, it was necessary to X-ray and core the existing concrete header beams and columns ringing the original structure. It was determined the original reinforcing would be sufficient to meet current codes without additional reinforcement. Brad Young & Associates (structural engineer for the project) made the decision that no additional work was required.
R.J. Miller Construction, the general contractor for the project, worked closely with the architect and brought onboard a design-build team of subcontractors for the mechanical, electrical, and plumbing.
The project is characterized by the distinctive bright pink and black motif used throughout, the low patio wall with wavy top that is punctured by holes of varying sizes, and the sliding mall-front doors that allow views both into and out of the club.
With the exposed original bowspring trusses and exposed brick, the space feels open and inviting. A lit, liquid oil and water bar top dazzles the patrons while they imbibe.
FAB Dayclub/Nightclub was conceived by Cisco Mendez and his husband Terry Story as a "… safe place for everyone," particularly those in the LGBT community.